Rocker and the Stray Cats sold nearly 10 million albums and garnered twenty three gold and platinum certified records worldwide, and made them a mainstay on MTV.  In addition to Stray Cats, Lee Rocker and Phantom Rocker and Slick albums, Rocker has recorded or performed with Carl Perkins, George Harrison, Ringo Starr, Willie Nelson, Leon Russell, Keith Richards, John Fogerty, and Scotty Moore. Rocker was nominated for a Grammy Award in 1982, as was his father, they are the second father-son duo to be nominated for a Grammy in the same year.
He considered to be an influential upright bassist in Rock n' Roll.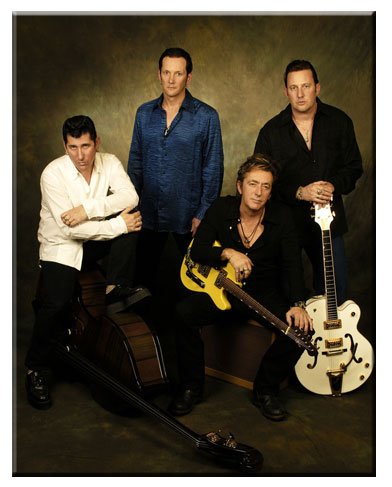 Lee Rocker made his mark singing, playing, standing on, spinning and rocking his giant upright bass in the legendary music group The Stray Cats. Grammy-nominated, The Stray Cats have sold nearly 10 million albums and garnered an astounding 23 gold and platinum certified records worldwide. Founded by Rocker, Brian Setzer, and Slim Jim Phantom, The Stray Cats remain a radio staple, were music video pioneers at the infancy of MTV, and repeatedly brought rockabilly music to the top of the charts.
This year kicked off with Lee joining the cast of the Broadway's hit musical "Million Dollar Quartet." Rocker stepped in to guest star for 12 performances in January. "Million Dollar Quartet" is inspired by the legendary recording session that took place Tuesday December 4, 1956 in the Sun Record Studios in Memphis, Tennessee. The session was an impromptu jam session among Elvis Presley, Jerry Lee Lewis, Carl Perkins, Johnny Cash and additional musicians. Rocker played the role of Carl Perkins' brother and bass player Jay Perkins. "The story is especially close to my heart," says Rocker, who was a close friend and musical collaborator of Carl Perkins up until his passing.
2011 also saw the release of Lee's newest recording, The Cover Sessions EP. The Cover Sessions is a side project that Rocker has been working on for the last 18 months, this record includes banjo's, harmonica's, dobro, mandolin, washboards and all types of folk american instruments. Lee put his americana twist on classic 1970′s radio hits such as the Lennon/Mc Cartney song "Come together", Elton John's, "Honkey Cat' and the Allman Brothers song "Ramblin Man".
Currently, The Stray Cat Lee Rocker and his band are in the USA touring and preforming at Fairs, Festivals and venues. These concerts promise to have him preforming Stray Cats hits including "Rock this Town", "Stray Cat Strut", "Sexy and 17″ as well as slamming renditions of songs from his many solo albums The Chicago Tribune described Rocker's playing as "muscular and passionate." The Washington Post says his show consists of "impressive, catchy, driving songs, frantic romps, finger-snapping swing and brooding slow blues." Rolling Stone declares, "Lee Rocker's singing naturally captures the spirit of rock 'n' roll."
Rockers band consists of guitarist Buzz Campbell, guitarist/slide player Brophy Dale, and San Francisco's maestro session drummer Jimmy Sage, The Stray Cat Lee Rocker delivers an incredible concert experience for all.
Join The Stray Cats' Lee Rocker on Facebook!!